Shopping Experiences for Locals!
The Loving Garland Green Way is to give away "Free" gifts with Donations to our organization.
As part of our fund-raising efforts, members of  Loving Garland Green fashion items from nature.  We do this for two purposes:  First of all, we do this to raise money for our various projects such as installing butterfly gardens and other types of urban gardens in our community.  Second of all we do this to demonstrate by example how there are all kinds of ways to supplement an existing income with just a little bit of ingenuity and elbow grease.
This section of our website features an online shop where visitors can view the current items we have for sale.  To order, simply pick up your phone and call us at 972-571-4497.  We deliver to Garland residents.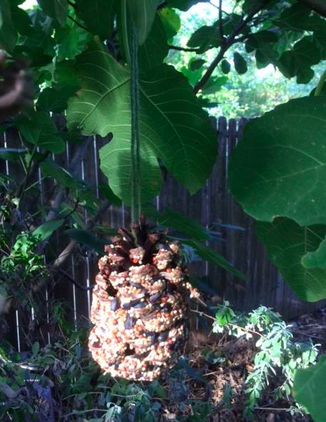 Don't forget the birds this winter season!
PINECONE BIRD FEEDERS
Our featured items for Winter 2017 include pinecone bird feeders, handmade by our members.  These bird feeders are made by tying a string for hanging around the top of the pine cone, wallpapering the entire cone in peanut butter and then rolling it in bird seed.  It comes wrapped in cellophane and tied with a colorful bow for presentation.  Call 972-571-4497 for details regarding pick and delivery.  We will deliver in Garland for any order of $10 or more.
PECANS -  We still have a few one-pound bags left!
This  is our third season for selling pecans hand-picked by members from trees in our neighborhoods and around Garland.  We pick on a halves agreement with various residents in our area who have pecan trees.  In addition we also pick native pecans from the Garland Community Garden.  
For a $12 donation, you can have a free bag of native pecans--hand picked from the Garland Community Garden and cleaned by members of Loving Garland Green. Call 972-571-4497.  We deliver free to Garland residents.